Design Your Perfect Office and Boost Productivity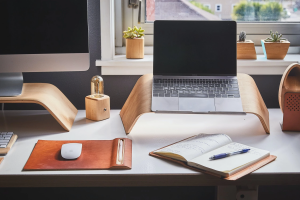 Having a business that operates out of your home offers incredible work flexibility: your commute is non-existent, you can set your own hours, and take time off when you need it. However, if you're working from home, it's important to have a designated space where you can focus and get work done. Prioritize creating an office space in your home, or begin looking for a new home that can better support your needs. For guidance on the right purchase, contact trusted real estate agent Deanna D. Parnell. In the meantime, consider the following tips as you work to design the perfect office space.
Before you get started on creating an office for yourself, consider what you need to run your business. For example, if you run a therapy business out of your home, having a separate entrance and private space is important. Or, if you have an e-commerce company, it might be necessary to have a place to store inventory. These are important considerations before you design your office.
When you've determined what specific elements you need for your office, think about design: do you want a small, cozy space to work, or do you prefer a more open, airy workspace? Your office design should support your personal working style and preferences. If you're having trouble imagining the perfect office space, do some research for inspiration.
If you're not able to convert an existing room in your house into your office, you could either build or renovate an area of your home to become a workspace or buy a bigger house that could support your business. Building an office could work in a few different ways: you could renovate an attic or basement to become an office, build an extension onto your home, or build a small workspace in your backyard.
Renovating an attic or basement to become an office is a great option, but it's important to determine whether it's feasible. Hire a contractor to find out if your attic or basement is structurally sound, and learn how much it would cost to renovate it. You'll need proper insulation, electricity, and ventilation to make it a viable option.
Another alternative if you'd rather not move is to build an extension onto your home. This can be quite expensive and disruptive but might be the best way to create an office. A cheaper option could be to build a prefabricated office in your backyard. The backyard office is handy for business owners who need a separate entrance for clients: it's both private and quiet.
Buying a new home is sometimes the best option for home-business owners. As you prepare to comb real estate listings, remember some important steps you should take when looking to buy. First, assess your finances and determine what you can afford for a down payment and a monthly mortgage. It's important to get pre-approved for a loan and work with a trustworthy and competent agent like Deanna D. Parnell.
If you're strapped for cash, see if you can find funding to help you create an office for your business. There are plenty of business loans available from both government and non-government sources. The Small Business Association offers Express Bridge Loans, and the Main Street Lending Program can help businesses that were impacted by the COVID-19 pandemic. Non-government options are available through banks and credit unions, and companies such as Facebook are offering grants to businesses in need.
Creating an office in your home could allow your business to advance to the next level: by having your own space, your productivity will skyrocket and you'll have the mental bandwidth to grow your business. Get creative and find a space in your home that could work, or consider building or renovating an area of your home that could serve as an office. And if you need funding to help you build your office, look for small business loans or grants that could support your project.
Are you looking for a new home that's perfect for your home business? Call Deanna D. Parnell today for home listings in Tarrant County, Texas! (469) 258-4770